Driving Impressions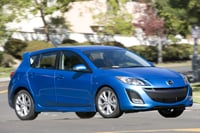 The Mazda 3 is a fine handling vehicle. The feel is firm and composed, with moderate lean in turns. The steering is sharp and precise, and the driver feels connected to the road.
The suspension on the base models deals well with most bumps. Larger ruts, however, can feel harsh, especially with the s model's 17-inch wheels.
The brakes on both models have a linear pedal feel. The Mazda 3s has larger brakes and we prefer the additional confidence of larger binders.
The Mazda 3i model's 2.0-liter engine produces 148 horsepower, which will be adequate for most needs. Drivers can get the most out of this engine with the standard manual transmission. With the flexibility of five gears, the optional 5-speed automatic transmission works well with the 2.0-liter engine.
Fuel economy is an EPA-rated 25 mpg City/33 mpg Highway with the manual and 24/33 mpg with the automatic.
The Mazda 3s features a larger, more powerful 2.5-liter four-cylinder engine, also used in the Mazda 6, rated at 167 horsepower and 168 pound-feet of torque. This engine delivers the type of power we expected in performance hot hatches just a few years ago. That's not to say it's a powerhouse, but it does provide the type of grunt that makes it fun on twisty mountain roads. Thanks to dual balance shafts, it's smooth, too, and fuel economy is pretty darn good at 22/29 mpg with the automatic and 21/29 mpg with the manual.
Drivers will have the most fun with the 6-speed manual transmission. The shifter isn't as tight or as precise as in the wonderful MX-5, but it is easy to shift, with relatively short throws and a natural clutch feel. Those who choose the 5-speed automatic get a manual shift mode, but no steering wheel paddles.