Driving Impressions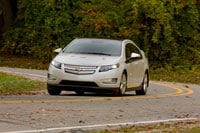 Like some of the existing hybrids, the Volt is always trying to help the driver achieve better battery performance, better overall efficiency and better fuel mileage, through the various instruments and displays on the instrument panel. It's very easy to stay on top of all that information by scrolling through the menus as you drive, trying to keep the battery stack icon as tall as possible.
But, eventually, the battery will deplete, after 48 miles in our case, and then the engine starts noiselessly and stays quietly in the background even at high throttle settings. Chevrolet said the Volt will run from 0 to 60 mph on battery power in less than 9 seconds, and reach a top speed of 100 mph.
The chassis underneath the unibody Volt is almost all composed of the same parts used on the Chevrolet Cruze sedan and some German Opel models, with the exception of the ABS brakes, which are connected to the car's electrical system and recharge the battery every time the car is braked or the accelerator pedal is released. Everything about the steering, braking and handling of the Volt reflects the Cruze, a highly competent compact. There is nothing weird about it. The steering is relatively quick and nicely weighted, the brakes work extremely well crawling through traffic or even hauling down from highway speeds, and the suspension absorbs big bumps and deep potholes with ease. The ride is taut and smooth, but well short of luxury-car plushness.
We drove almost 50 miles in Low range in afternoon rush-hour traffic, using the Low range by lifting off the pedal to slow the car between stoplights and regenerate electricity at the same time, using the brakes sparingly, which also recharged the system. In this mode, the Volt is virtually noiseless, conversation is easy, and the sound system doesn't have to be cranked up to overcome operating noise. A very pleasant commute from the airport to the hotel.
The engine did not start until 48 miles had elapsed, and when it did start, it started imperceptibly and stayed quiet under all driving conditions. On a longer highway driving loop, using the battery until it was depleted, and then the engine/generator/motor combination, the onboard gauges told us we had gone 64 miles on battery power, 59 miles with the engine on, for a total of 123 miles, using only 1.65 gallons of gasoline, or 74.8 miles per gallon! According to published reports, while the engine is running the Volt is getting about 32 mpg.
The Volt's safety package is far more complete and complex than an ordinary car's, because all of the safety systems, air bags, OnStar, ABS, traction control, StabiliTrak, and the rest, are tied into the electrical system so that the system shuts down automatically in the event of an accident, flood, rollover or air bag deployment.